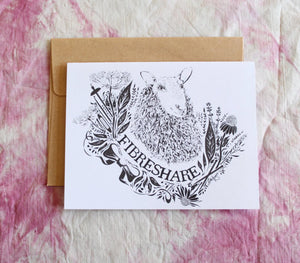 5 Tips for Putting Together the Best FibreShare Package
1- INTRODUCE YOURSELF
Say hello to your partner(s)! They are nervous about this too. A quick hello and a mutual follow I can go a long way. Stay in touch, watch their stories, posts and comments see what they like. I am even going to turn on my notifications for my partners account so I can stay on top of all their posts. 
2- STALK THEM
Figuratively speaking... please!
You were given the option to share your social medias, check theirs our! I personally have a pinterest board for everything I like and I'm interested in. On ravelry I'm constantly fav'ing patterns I like and draw inspiration from. Try and find what size yarn they seem to like the most, or colors, silhouettes, fibers, indie dyers, brands of tools. Go back into their feed and investigate but don't be weird and like a post from 86 weeks ago.   
3- ANALYSE YOUR DATA
You have close to 2 months to gather your "data" AND send out your package. If your partner loves knitting socks and lace on 2.25mm needles, don't send them super bulky yarn send them lace/fingering! When you're shopping for your partner (stash,store or online) sit back for a moment and ask "Will they like this? Is this something that I see them using?" Not sure what exactly is their favorite color? A quick question answers that and will build up the suspense for the package. 
4- GO ALL OUT
My most memorable package was from @bqueencollection. Makynze went out of her way to dye fiber for me (if you don't know me I love to spin yarn), she only dyes yarn btw! She sent yarn, hand carved crochet hook, buttons and an ornament. Don't meet the minimum of 200g SURPASS IT! I know I want to open a bad ass box of fiber fun so why not send one out too?!
5- SAVE $$$$
Many featured makers, like myself, have given all participants of fibreshare a coupon for their shop. Use that code and buy something awesome from us, for you and your partner, you can't forget to treat yourself :) .
Depending on your country, if you use www.paypal.com/shipnow for your package you'll save some change of the total postage for your package. You will need a printer though.
Have fun!!!
Stay Creative,
Alex
---
1 comment